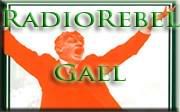 RADIO REBEL GAEL'S Glorious Return of The Rabble-Rousers !
FEAT. Exclusive Interviews w/ John Mccullagh, Joey Bracken of Athenrye, and Anto Kane of The Lonely Schizophrenic
And New and Old Music by The Killigans, Roaring Jack, The Dubliners,
As always, RADIO REBEL GAEL is a free public service focusing on noncorporate musicians that support National Liberation, Workers Rights, International Socialism, and Self Determination for All Peoples of the Globe : Irish, Scottish, Welsh, Cornish, Australians, Catalonians, Puerto Rican, Basque, Quebecois, Native American, Palestinian, Cuban, and all working class people, no matter their nationality, religion, or race, so spread the word, and anyone who wishes to contribute their own music, has a friend who would like to feature their music on Radio Rebel Gael, contact me at my email address, forward all constructive criticism, compliments, requests, hate mail, love letters or death threats to :
- Rory Dubhdara, Radio Rebel Gael
And Tyranny trampled them in Dublin's gutter
Until Jim Larkin came along and cried
The call of Freedom and the call of Pride
And Slavery crept to its hands and knees
And Nineteen Thirteen cheered from out the utter
Degradation of their miseries.