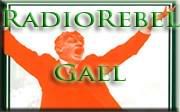 RADIO REBEL GAEL : The Red & The Green !
http://spinxpress.com/bronxgael
FEAT. New Music by John Mc Cullagh, Kevin Conlon, & The Ballymun Bootboys !
And Over Four Hours of brilliant music by Ray Collins, Pol MacAdaim, Ciaran Murphy, Pascal Burke, Martin Whelan, Dick Gaughan, Matt McGinn, Johnny Cash, Pete Seeger, Larkin, Neck, The Mickey Finns, Seanchai & The Unity Squad, Adelante, Battering Ram, The Whiskey Priests, Cruachan, Saint Bushmill's Choir, Bible Code Sundays, The Go Set, Kilmaine Saints, The Groggers, The Currency, The Fisticuffs, The Wages of Sin, The Irish Brigade, The Broken Shillelaghs, and tons more !
"No revolutionary movement is complete without its political expression. If such a movement has caught hold of the imagination of the masses, they will seek a vent in song for the aspirations, the fears and hopes, the loves and hatreds ungendered by the struggle. Until the movement is marked by joyous, defiant singing of revolutionary songs, it lacks one of the distinctive marks of a popular revolutionary movement :
It is a dogma of a few, and not the faith of the multitude."
- James Connolly
http://spinxpress.com/bronxgael
http://www.archive.org/details/RADIOREBELGAELTheRed_TheGreen/