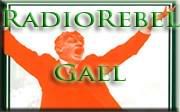 RADIO REBEL GAEL : Oktober Resurgence !

http://spinxpress.com/bronxgael
New Music by Pete Wylie, John Mc Cullagh, Pascal Burke, The Kilmaine Saints, The Ballymun Bootboys, The Fisticuffs, Auld Corn Brigade, The Go Set, Whiskey of the Damned, &
The Rebel Hearts !
And With *Over Three Hours * of all of your finest Fenian & Proletarian favorites by Damien Dempsey, The Broken Shillelaghs, Jerry McCusker, Bareknuckle Boxers, Larkin, Scary Eire, Irish Brigade, Neck, The Tossers, The Gentlemen, The Wolf Hounds, The Rum Jacks, Roaring Jack, Sinead O'Connor, and tons more!
http://spinxpress.com/bronxgael