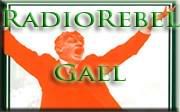 RADIO REBEL GAEL : July Jigs & Musical Swigs !

http://spinxpress.com/bronxgael


Featuring *brand new songs * by Jun Tzu, B.D. Jones, The Mickey Finns, and The Ballymun Bootboys !

And all of your finest Fenian favorites by John McCullagh, Pol MacAdaim, Bluestack, Seanchai & The Unity Squad, Compay Segundo, Mischief Brew, The Rumjacks, Roaring Jack, Neck, The Wages of Sin, The Tossers, The Gobshites, and tons more !




http://spinxpress.com/bronxgael



"No, men and women of the Irish race, we shall not fight for England. We shall fight for the destruction of the British Empire and the construction of an Irish Republic."

- James Larkin

http://www.archive.org/details/RADIOREBELGAELJulyJigs_MusicalSwigs/