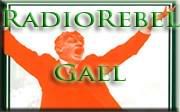 RADIO REBEL GAEL's Narrowback Grand Hooley !!!

http://spinxpress.com/bronxgael


Featuring *brand new tunes* by The Wages of Sin, The Broken Shillelaghs, The Fisticuffs, Kevin Flynn & The Avondale Ramblers, The Wakes, The Groggers, The Fisticuffs, The Rum Jacks, The Broken Shillelaghs, The Groggers, and all the finest Fenian favorites by Pol Mac Adaim, Ray Collins, Ciaran Murphy, Ballymun Bootboys, Seanchai & The Unity Squad, Eire Og, The Sharky Doyles, The Tossers, McAlpine's Fusiliers and tons more !